UKsub To meet the busy production demands of a Network Rail contract, Lancashire-based Howells Railway Products Ltd has invested in 26 Haas CNC machines, including a pair of five-axis UMC-750 models.
Founded in 1947, Howells Railway Products remains an independent, family-run firm. All engineering and assembly work is carried out under one roof at the company's facility in Wythenshawe, near Manchester. Howells Railway has recently undergone a major expansion, which was necessary to fulfil the Network Rail contract, as one of its manufacturing partners. The project included the addition of a 40,000 sq ft CNC workshop, sympathetically designed to complement the company's impressive Art Deco building.
Howells' new workshop is filled exclusively with Haas CNC technology, including the latest UMC-750 five-axis machines, along with vertical machining centres, mini mills, two-axis and Y-axis turning centres, and toolroom lathes.
David Howells, managing director, explains: "We examined the CNC machine tool market very carefully, and concluded that the Haas machines offered us the best levels of accuracy and dependability, for the right money. After seeing them in action at the showroom, including some astonishing cuts being made by an ST-30 CNC turning centre, we knew Haas were the right machines for us.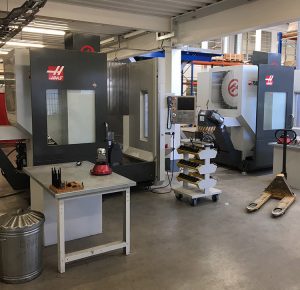 "The first batch of machines was installed in late 2013, since when have continuously expanded our capabilities by investing in more Haas equipment, including our most recent purchase of two five-axis machining centres, one in December 2016 and another in May 2017," he adds.
"With the help of the Haas applications department we've tweaked our processes to be as efficient as possible. By changing the order of operations and adjusting certain cycle times we've increased machine runtime to its optimum level. One operator can comfortably run three machines; because of the shared Haas control our operators are equally at home on both the mills and lathes."
Howells Railway clearly has confidence in the Haas control. In fact, the UMC-750 is supplied as standard with everything needed for full five-axis machining, including some essential macros specifically for the dynamic repositioning of parts.
"Where possible we'll use multiple fixtures," says Howells. "For example, the steel tube part of our stretcher bar assembly is profiled on one of the TL-3s before being placed in a rotary on the back of the table on one of the VF-4SSs, which is simultaneously used to face and bore the steel forgings that house the motion units."


Stretcher bars are safety critical components in the design of a set of railway points. They keep the switch rails in the correct position under the passage of a train. A stretcher bar holds the two rails a defined distance apart at all times and ensures that both rails move simultaneously as a coupled pair when commanded.
Any failure of a stretcher bar can, in extreme circumstances, lead to the derailment of a train, as occurred at Potters Bar and Lambrigg. As a result of these incidents, the assembly has been under scrutiny by Network Rail for some time and improved function and reliability was deemed to be of paramount importance.
The tubular stretcher bar is a new design, created by Network Rail as a high-integrity replacement for existing designs on the UK rail network. Effectively a cold drawn steel tube, the bar is connected to a motion unit at either end. Each motion unit contains pre-compressed elastomeric components in a forged steel housing, which is designed to damp the transmission of loads imparted from railway vehicles into the tube.
Stretcher bars have to permit adjustment, so the points can be set up properly and then locked. The new design demands the highest levels of quality and precision, however they are simpler to install, require less maintenance and are designed to withstand the rigours of the 21st century railway.
With its Haas machines, Howells Railway is effectively getting a bonus operation. Travels are very important with these set-ups, which is where the VF-4SS comes into its own. With small work envelopes, machine shops are often limited to performing perhaps just one machining operation at a time, or cutting one side of a part. More travel can help shops become more efficient by allowing multiple fixtures and operations.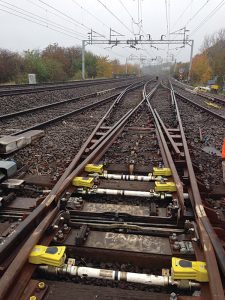 "Most of our VF-4SS verticals are equipped with Haas rotaries and are used to cut component parts for the motion units; these need to line up when assembled and precision is crucial," says Howells. "We've found the rotaries to be extremely accurate; within 0.25° over the dozen or so turns in this final operation.
"Apart from the forgings, which we managed to source from a UK company, everything is manufactured in-house," he continues. "This means we can keep a close eye on quality at every stage. All parts go through numerous safety sign-offs and assembly checks and, similarly to aerospace, there's a double documentation trail to ensure traceability and compliance."
The two UMC-750s were not purchased as part of Howells Railways' original plan for the machine shop refit. However, their value and capability simply proved too good to ignore.
"We decided to go the extra mile and future-proof ourselves," says Howells. "We are glad that we did; we have worked with a combination of three and four-axis set-ups on the existing VMCs, including multiple four-axis drives on the same machine, but the UMCs gave us fully synchronous five-axis capability."
Working in five axes has proved invaluable, giving a rapid turnaround for the fixtures used on the company's new robotic fibre laser welder, along with simplifying some of the longer multiple operation machining on the company's traditional product lines to single operation. Howells Railways is already planning space to accommodate more Haas machines.
"It's an exciting time for us," concludes Howells. "We've changed more in the past few years than in the previous 60. As our range of products has become more technologically innovative, so has our approach to their production. Thanks to the Haas machines and the changes we've made as a company, we're doing things quicker, better and more efficiently, while also improving quality."
For further information www.haas.co.uk