Axiom Product Development Ltd is a new privately-owned company which has recently acquired the trade and assets of FRH Technical Engineering Ltd, a successful machining, rapid prototyping and tooling business based in West Sussex. Through its experience in the engineering sector, Axiom has made a number of key strategic appointments to put in place an expert management team with ambitious plans for expansion.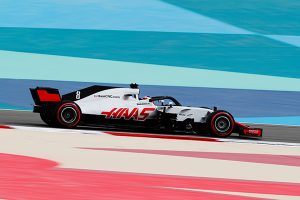 Frank Hay founded the original FRH business in 1952 as a pattern-making shop. The company remained a family business for three generations with Frank's grandson, Adrian Hay at the helm for the past 20 years. Following the purchase, Axiom has kept the family connections strong with Tom Hay, great-grandson of the founder becoming a shareholder and production director of the new business.
Axiom Product Development specialises in the design and manufacture of high-quality tooling, patterns, components, manufacturing aids, and jigs and fixtures for the automotive, motorsport, defence, aerospace and marine industries. The company says it provides a quality-assured, technically capable engineering service to its customers. Five Formula One teams are on the Axiom/FRH books, making tooling for the cars' carbon-fibre bodies. Some of this tooling has even been used to make the Haas F1 Team car, which of course was made on a Haas machine.
Since 1999, the company has been located in a purpose-built 1,200 sq m factory near Chichester, which houses eight Haas high-speed machining centres and a fully equipped toolmaking facility.
"Our first investment was a Haas VF-4," explains production director Tom Hay. "We took on an experienced machinist who was familiar with a range of machines, but recommended we buy Haas. We haven't looked back since."
The company currently has 10 employees, including CAD designers, machinists and experts in prototype tooling.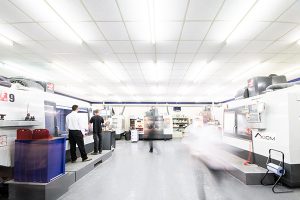 "We do all of our own CAD modelling," says Hay. "Also, we do a lot of work designing prototype tooling, which is then sent straight to the Haas control to make the part."
The company's most recent investment is a Haas VF-9 vertical machining centre. With a capacity of 2134 x 1016 x 762 mm, the machine provides the flexibility to make full-scale vehicle parts.
Hay explains the difference the Haas machines have made to the business: "In the past six years we've added five spindles to the workshop. This has massively increased our capacity and significantly moved us forward in terms of the technology available at our fingertips. We've also replaced some of our older machines with Haas. We find them very useable and their speed has made a huge difference, particularly the 'Super Speed' machines."
Axiom's five Haas Super Speed verticals are equipped with 15,000 rpm spindles, 24+1 side-mount tool changers and high-speed machining capability for extra-fast cornering.
"Using the newer machines, along with Vero software, has cut our large rough-cut cycle times from five hours to just 30 minutes," states Hay. "And one engraving job has gone from one hour to 10 minutes. It's an incredible difference.
"Maintenance is so much easier too, as the machines only have one type of lube and the cartridges last a long while," he adds. "We spend less time maintaining and more time machining.
"We keep buying Haas because they've proved to be accurate and reliable. The control is so simple to use that it's perfect for our apprentices too. Once you can run one machine you can run them all because the control is universal.
"The service we receive has been excellent. We haven't needed repair work on the newer machines, and the staff are very helpful and quick to answer queries. The salesman and engineers are friendly, and not too pushy as we have found elsewhere. They have a real understanding of the industry and seem to know our requirements better than we do."
It's an exciting time for Axiom/FRH, which recently welcomed Alan Rendle-Eames to the team as managing director and shareholder. Rendle-Eames has over 17 years' experience in the machine engineering sector and was formerly the project manager leading a team of five designers at Formaplex, a specialist machining and composites company. He previously spent 14 years at FRH Technical Engineering and is therefore the ideal person to oversee the running of the business.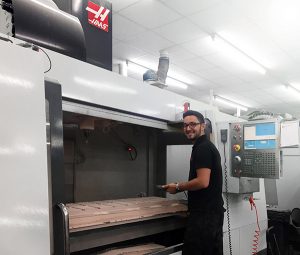 Luke Newman has also joined the Axiom management team as technical director and shareholder. Newman is a qualified tool maker with over a decade's experience in the sector, most recently as technical sales manager at Formaplex, where he specialised in growing the Formula One, automotive, defence, aerospace and energy sector accounts.
Axiom Product Development Ltd was set up by Michael Last and Clive Johnson, who are both experienced CEOs with complementary backgrounds in finance, mergers and acquisitions, engineering and manufacturing.
Last was CEO at Formaplex, where he oversaw a period of successful growth and expansion. He has extensive experience across a broad range of technology-driven businesses in multiple industries.
Johnson, a mechanical engineer by training, has managed and grown a range of businesses, from start-ups through to high-tech manufacturing businesses. He was CEO at Portsmouth-based Magma Structures, builders of the tallest composite superyacht masts in the world.
When asked about the future, Hay says: "It's all about Haas. We have one non-Haas, but compared with a Haas machine featuring the same bed size, it takes up twice the floor area. We found the Haas machines slot into place very easily, making the best use of available space. We're delighted with our choice; every product is a reflection of the team behind it and Haas truly excels in all areas."
For further information www.haas.co.uk