Specialist tooling solutions supplier Cogsdill-Nuneaton has recently invested in a new Doosan vertical machining centre from Mills CNC. The machine, a DNM 6700, has been installed at the company's 27,000 sq ft facility, where it is being used, primarily at this moment in time, to produce precision components for Cogsdill's range of ZX facing and contouring-head tooling systems. These components include different sized front-mounted cross slides, with slide ranges from 200 to 900 mm, which are machined from nitrided and carbon steel.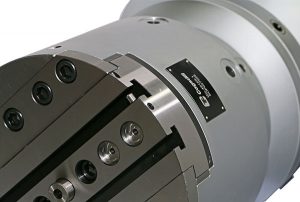 The decision to invest in the new Doosan DNM 6700 machine followed an internal review undertaken by Cogsdill into its existing CNC machine tool capabilities and, in particular, whether current milling capabilities were adequate to meet growing demand from customers worldwide for its large-capacity tooling solutions.
Says Lee Donaldson, executive director, Cogsdill UK: "We invest regularly in advanced CNC machine tool technologies, and the audit and review highlighted a potential improvement opportunity within our existing CNC milling capabilities."
With global demand for its larger tooling solutions on the increase it became clear to management and production staff at Cogsdill that investment in a new, reliable and large-capacity vertical machining centre was required.
"To ensure we acquired a vertical machining centre that matched our needs and expectations we did our homework and created a 'key criteria' checklist before investigating the market," says Donaldson.
In addition to the working capacity of the new machine, other requirements included the machine's cutting performance, its availability and price, as well as the scope and scale of the technical back-up and aftersales support services provided by the machine tool supplier.
"Although we hadn't invested in a Doosan machine tool previously, we knew that Doosan machine tools have a good reputation in the market, and that Mills CNC, the exclusive distributor of Doosan machines in the UK and Ireland, is a successful company with a significant market presence," says Donaldson.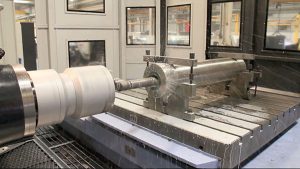 Cogsdill also had direct experience of working in collaboration with both Doosan and Mills CNC as a technical partner; supplying advanced tooling solutions to both. A recent example involved Cogsdill working in partnership with Doosan and Mills CNC to deliver a turnkey process for auto-loading facing heads, boring tools and splining tools, into a Doosan horizontal boring machine (a DBC 130) for a US-based oil and gas customer.
Following extensive research into the market, Cogsdill ultimately decided on investing in a new DNM 6700 vertical machining centre.
The DNM 6700 is a large-capacity vertical machining centre equipped with a work table measuring 1500 x 670 mm and axis travels of 1300 x 670 x 625 mm in X, Y and Z. A high-torque (118 Nm) direct-drive spindle (18.7 kW/12,000 rpm) also features.
Says Donaldson: "The working envelope of the machine was of critical importance, and the DNM 6700 large-capacity working envelope enables us to machine larger components [as well as smaller components] in a single set-up. This means faster production and reduced part cycle times.
"Similarly, the cutting performance of the machine was important," he adds. "The DNM 6700's direct-drive spindle technology gives us ability to achieve high volumetric removal rates when required, as well as fine finishes. It is a very versatile machine."
To increase the machine's flexibility further still, Cogsdill, as part of its investment in the DNM 6700, also ordered a 4th/5th axis unit to be supplied with the machining centre.
In terms of availability, Mills CNC has at least 70 new Doosan machines, at any given time, in stock at its technology campus in Leamington. A significant proportion of these machines comprises its best-selling DNM vertical machining centres.
"The quick availability of the new machine was important," says Donaldson. "We attended MACH 2018 where we visited Mills CNC's stand and supplied them with a 'letter of intent' to purchase a DNM 6700. Just a few weeks after the event, once we had acquired external grant-based funding, the machine was delivered, installed and commissioned.
"I have to say that we were presently surprised with the machine's price," he continues. "There is a lot of technology and functionality packed into the DNM 6700 and, while price isn't everything, it clearly is an important factor when making any capital investment."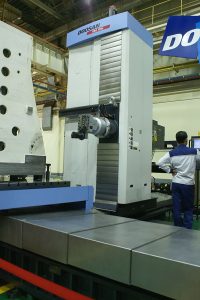 With regard to support, all Doosan machines supplied by Mills CNC are backed by the company's aftersales service and support.
"Mills CNC's reputation in the market for its aftersales support is second to none, and we have direct experience of this having worked in partnership with Mills delivering a number of turnkey and process improvement projects for customers," says Donaldson. "Just knowing that you have Mills' technical, applications and service back-up at your disposal inspires confidence."
Since being installed at Cogsdill's facility in Nuneaton, the DNM 6700 has been used to machine front-mounted cross slides housed in the company's ZX facing and contouring head tooling systems. These cross slides are rough machined from solid on the machine prior to stress relieving, and are then semi-finished, heat treated and ground before final finishing operations take place.
On average, machining times for roughing, semi-finishing and finishing are 60 minutes, 90 minutes and 30 minutes respectively.
For further information www.millscnc.co.uk