"Some complex mould tools used to take me nearly a week to design. But when we invested in VISI that immediately came down to a couple of days. And it's even quicker now."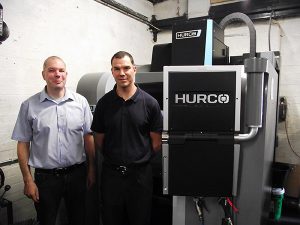 Those are the words of Mark Chapman, company secretary and mould maker at family-run business Sharnold Ltd. Designing its moulds in VISI, and machining them with tool paths generated by WorkNC, ensures that the tight tolerances required are met first time, every time.
The company was established as a subcontract mould maker in 1957, moving to its current 3500 sq ft premises in Northamptonshire in 1970 with 10 employees. Nowadays it is run by just four people: Maurice Chapman, his two sons Mark and Stephen, and Stephen's wife Tracy. Maurice bought into the business in 1982, eventually taking sole ownership.
While making tools for plastic injection moulders remains an important part of business, Sharnold set up its own moulding operation in 2000, and now has seven moulding machines – two Boys, two Battenfelds and three Arburgs. The machines mean the company has a locking force of between 22 and 100 tonnes, giving it the ability to supply moulded plastic parts up to 230 g.
Although Sharnold has used WorkNC from Vero Software to machine its moulds for at least 15 years, VISI (also from Vero) is a relatively new investment.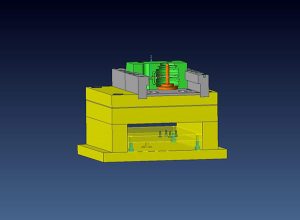 "It's already proving to be vital for us," says Mark Chapman. "CAD designers are producing increasingly more complex parts, but VISI gives us the ability to meet those demands quickly and easily. It's now simple to achieve aspects that we struggled with before. For example, producing split lines is much easier, as is slide generation. VISI has accelerated the whole design process considerably."
The combination of mould design with VISI, and WorkNC driving a three-axis Hurco VMX machining centre along with a Hurco Hawk and XYZ bed mills, means that everything Sharnold produces is within the required tolerances; sometimes down to ±0.05 mm.
"Every mould we manufacture goes through both software packages," says Chapman. "Using the Hurco machines and VISI means that in terms of design and cutting the forms, we save at least half the time, and the overall time taken to produce the complete tool is reduced by around a third."
He says the process begins with the plastic component – whether the company is producing the tool for another moulder, or to run on its own moulding machines.
"A big advantage of VISI is that we can check the model's integrity before we start," he says. "It's got a variety of tools to ensure that all surfaces meet up, because if we're trying to work with a poorly designed model, the mould tool won't work.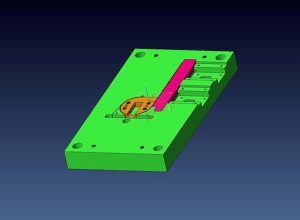 "I check the features with the draft analysis function, making sure it has relevant draft tapers, and then move on to the design. As VISI has a large library of materials with all their specifications and characteristics, it's simple to apply shrinkage to the particular plastic I'm working with."
And he says core and cavity separation is quick and easy, even with varied split lines, as are sliding-block and tricky shot-out areas.
"I make either the fixed half or moving half transparent on-screen, so I can look inside and ensure the faces are touching, and that everything fits and works properly."
Once he is happy with the split he subtracts the part out of the inserts and establishes the insert size around it. While VISI automatically picks the mould base when the insert and part are complete, he is particularly impressed at the speed and accuracy with which it can be manually tailored if required.
"And when working on multi-cavity tools, VISI lets me literally copy a completed insert into the next position; and when that operation is finished it automatically selects the bolster – and, again, there are manual editing tools if necessary."
Chapman says the feed-gate generator and library of ejector pins all help to move the design along at a fast pace, while transferring from VISI's CAD process to WorkNC for CAM is also quick and seamless.
"I put each plate on a different layer, so l have my clamp plate, as well as the fixed-half form plate and moving-half form plate, all saved as individual parts in native VISI files. As WorkNC reads the VISI files, I simply move them across. I can pull a finished plate design out of VISI, and WorkNC is generating tool paths for it within a minute."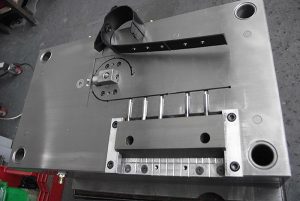 Sharnold's moulded parts are largely for the automotive, security door, electronics, conveyor belt, licensed trade and airport industries. They include a brewery 'python' strap, and a pulley wheel system for a conveyor belt.
Python straps are used for securing pipework leading from pub cellars to the taps on the bar, and comprise reground plastic waste from other manufacturing processes. Once the company had been briefed on the project by Leicestershire-based customer L'isolante K-Flex, Sharnold used VISI to create the mould tool from an existing part that was previously manufactured using a different method.
The contract for the pulley wheel system came about after producing a small clamping block for Axiom GB.
"We made around 5000 parts, which was their first venture into moulding," explains Chapman. "It was so successful that they asked us to work on the wheels for their conveyor system. We designed the full mould in VISI and transferred the files to WorkNC for machining the bolster, forms and electrodes."
Overall, Sharnold makes around a dozen mould tools a year, ranging from 75 mm square bolster plates up to 445 mm square, and ships around 40 different moulded products totalling 100,000 piece parts every month.
"Not bad for just the four of us," says Chapman.
For further information www.visicadcam.com