Many people will have fired a rifle, but for Robert Nibbs it has been a lifelong passion that evolved from childhood enthusiasm, through professional career, to the founding of a high-end rifle manufacturing business. Since joining his first rifle club at the age of 14, Nibbs has immersed himself in the sport, representing Team GB during his career. For the past 26 years, he has proudly been making rifles of distinction and precision.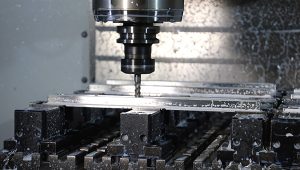 Located in rural Somerset, Nibbs runs a small business that designs, manufactures, builds and sells high-end target and professional rifles. As an SME, the company relies on a blend of innovative manufacturing techniques and productive processes – it is here that Industrial Tooling Corporation (ITC) Ltd has stepped into the sights of this progressive company.
At the end of 2017, Nibbs was having tool life issues when producing a component from 303 stainless steel. Existing solid-carbide end mills were struggling to cope with the skin on the stainless and the intermittent machining process. Applying an existing solid-carbide end mill, the business could only produce 25 parts prior to tool failure. This limited tool life resulted in increased tool costs, and inconvenient and repeated tool changes.
Recalling the introduction of ITC cutting tools, Nibbs says: "I was familiar with the ITC brand and I made an enquiry via their website. They subsequently came in to review the stainless steel components and we haven't looked back since. ITC's engineers initially trialled the Widia M1200HF high-feed face mill, but this was a little too aggressive for the machine parameters. We moved to the Widia M200 button end mills and the results have been exceptional."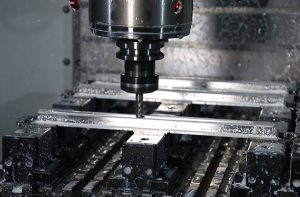 The 40 mm diameter Widia M200 button mill cutter with WP25-PM grade inserts instantly ramped up productivity and decreased tooling costs. Commenting on this first installation, ITC's Matt White says: "The M200 increased the feed rate from 0.1 mm/tooth to 0.3 mm/tooth, cutting the cycle time by more than 50%. For all of his machining processes, Robert would use a Microloc work-holding system to set up to 20 parts in a single cycle; the M200 slashed the cycle time from over one hour, to 35 minutes. This would give him valuable time to leave the machine running while he moved to other tasks, knowing that the tooling would finish the cycle intact."
Tool costs and changeovers were also reduced, as White recalls: "The previous solid-carbide end mills would need to be replaced after 30 components. However, the
40 mm diameter M200 featuring four insert seats has six edged double-sided inserts with a location lug for precision indexing. This reduced tool changeovers and set-ups drastically, but more important was the reduced tooling costs. Each edge of the inserts could achieve the same performance as the previous solid-carbide end mill; but with 12 edges the M200 is 12 times more cost efficient. Machining to a 2 mm depth of cut, we suggested that Robert use the Widia M1200 for finishing operations. Applying a 0.2 mm depth of cut, the M1200 has machined over 300 parts without changing an insert edge to date."
The success of the Widia face milling tools opened the door to trial other ITC products on Nibbs' Haas VF2- SSYT thee-axis machining centre.
"We introduced the Widia 49N9 solid carbide three-flute rougher to the profiling of pockets on 6082-T6 grade chassis sections," says Nibbs. "Previously we used solid carbide end mills from two well-known brands with limited success."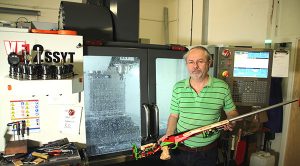 Then Tom Lindley, ITC area sales engineer, suggested running the WIDIA 49N9 at 12,000rpm and just shy of 8 m/min at full 24 mm depth of cut with a 10 mm step-over; each parameter at least 50% greater than the previous tools.
"I was very apprehensive, but the Widia tool cut through the aluminium like a hot knife through butter," states Nibbs. "Processing the roughing operation at double the speed and feed parameters of the previous tools, and with manageable chip size, the Widia 49N9 contributed to reducing the overall cycle time of rifle butt components. This high-speed machining operation reduced the chassis blank from 4.1 to 1.7 kg in 75 just seconds."
The success of the Widia face mill and solid-carbide end mills gave Nibbs the confidence in the application expertise of ITC's Lindley and White and, moreover, the quality of the products applied. This confidence opened the door for more ITC innovations to be introduced.
Since the initial introduction, company now utilises ITC 2041 and 2052 solid-carbide square-end tools, as well as 3041, 3051, 2201 and 3081 corner radius end mills on aluminium parts. Offering another example of the productivity gains from ITC's cutters for aluminium, Nibbs says: "We used to manufacture aluminium thumb wheel adjustors in three minutes with our previous tooling supplier and machine, but the investment in the Haas machining centre and ITC's 3081 radius end mill for profiling the thumb wheels has reduced the cycle time to 45 seconds, a 75% cycle time improvement. Likewise, the three-flute, 20 mm diameter 3051 series with 0.5 mm radius, and the 10 mm diameter 3041 series with 3 mm radius, have both made similar improvements on a scope stand project while generating excellent surface finishes."
Referring to this influx of ITC products, Nibbs continues: "The rifles consist of over 30 major components and a huge variety of smaller parts. There is a complete range of rifle variants with three different stock configurations for a multitude of action types, and then surface finish options and colours."
For profiling stainless steel components, Robert Nibbs has introduced ITC's 4777 solid-carbide end mills in 10 and 16 mm diameters. With regard to hole-making, the Widia VDS series of drills has been successfully implemented in combination with the TTMM range of ITC mini thread mills.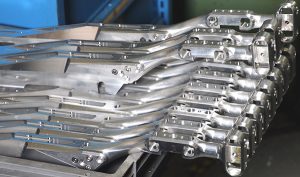 "I've not had any ITC tools that haven't achieved what the engineers have said they would do," says Nibbs. "As a small business owner, I don't have time to endlessly trial new tools in the hope of achieving success, so the recommendations and results of ITC tools have been invaluable. In just 12 months, I have changed out the majority of tooling and ITC now supplies almost 90% of our tools. This is down to the results and the service, support and technical solutions that have improved the productivity of my business by at least 30% in the past year."
Producing more than 50 rifles each year that are accurate up to 2000 yards (1829 m), Nibbs says the rifles are instruments of true precision: "During my professional career, I spent 40 hours training every week. It is the years of training and a lifetime spent working with rifles that sets my business and products apart and puts them in the very top echelon of the market. A precision rifle is all about balance, not weight; the balance and the recoil action are what sets high-end rifles apart. Controlling the recoil action and efficiently using the energy expended from the action to benefit the user is all about the application of physics. To continually develop and enhance rifles is something that requires considerable design and development effort. By introducing ITC to my business and reducing my production times, I now have more time to spend on designing and trialling new components and techniques."
For further information www.itc-ltd.co.uk