Craigavon-based subcontractor Boyce Precision Engineering primarily serves the commercial aerospace sector, which accounts for 70% of turnover. A majority of throughput involves producing aluminium parts for first-class and business-class seating, plus various aluminium structural components. Aerospace recognitions include AS9100 accreditation (the global quality management system for the aerospace industry), as well as supply chain recognition SC21 (Bronze Award) and ADS Group membership.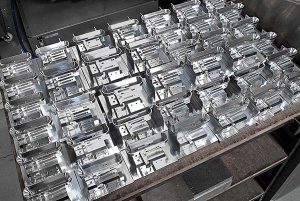 The contract machinist started operations in 2006 and in little more than a decade has made significant strides; the company now employs 34 staff. Earlier this year, Democratic Unionist Party MLA (Member of the Legislative Assembly) for the local Upper Bann constituency, Carla Lockhart, hosted a visit to the firm by party leader Arlene Foster and the chief executive of Invest Northern Ireland, Alistair Hamilton.
In recent years, there has been an increase in the complexity of the prismatic aerospace parts that Boyce Precision manufactures, making a progression from three-axis to five-axis machining necessary. For the new machining capacity, joint owners and brothers George and Brian Boyce decided to move away from the supplier of two-thirds of their three-axis machines. Instead, they opted for a 600 x 550 x 450 mm capacity, German-built Hermle C 250, which was supplied by sole UK and Ireland agent, Kingsbury.
The five-axis machine's suitability was immediately apparent and a second, identical model has since been installed. The configuration of Hermle vertical machining centres places the three linear axes within a modified gantry above the working area, while the integrated trunnion provides a rigid, stable platform for the two rotary axes, which includes a ±115° swivel for production flexibility. The machines in Craigavon have integral Blum tool breakage detection to allow long periods of unattended running across the two shifts that Boyce Precision operates.
A further trend within the aircraft seating sector is towards larger components, which are even more complex to avoid the labour costs and delays associated with assembly. Once orders for such parts were promised, Boyce had no hesitation in placing an order for a larger Hermle C400 with a working volume of 850 x 700 x 500 mm.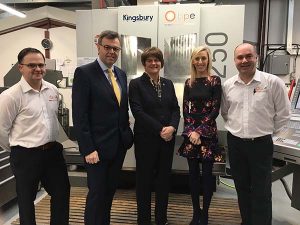 The machine will be delivered in November 2018, directly to a new, 18,000 sq ft factory unit currently being built for the subcontractor in Portadown. Treble the size of the current premises, the building represents a £3m investment, taking into account the capital cost of the third Hermle five-axis machine and the imminent purchase of two further three-axis machining centres.
Boyce says: "As these are our first five-axis machines, ordering the initial one was a big decision. Our company policy is to buy the very best equipment we can afford, not only machines but also work holding, tooling and engineering software.
"We had extensively researched the five-axis vertical machining centre options, but before going ahead with Hermle I had a chance to see how the machines are manufactured at an open house at their factory in Gosheim, which gave me confidence in the build quality," he adds. "Price and after sales support were also important considerations, and on both counts we felt confident in the Kingsbury offering. Their training of our skilled engineers on the shop floor was seamless, allowing them to pick up five-axis operation quickly."
The benefits of five-axis machining to Boyce Precision are far-reaching. One-third of the time, the two Hermle C250s are executing programs requiring the interpolation of all five CNC axes simultaneously – work which formerly could not have been carried out.
To fulfil other contracts requiring only three-axis cycles, automatic positioning and clamping of the rotary axes reduces the number of separate operations needed to complete a job, in some cases dramatically. Aerospace parts that used to need two or three separate operations are now completed in one hit.
A pharmaceutical component that previously required eight separate set-ups now requires only two. This sector, together with medical engineering contracts, accounts for 20% of the subcontractor's turnover, with the remaining 10% spread across automotive , motorsport, TT racing and general engineering. The latter work focuses on contracts for the construction industry, particularly bespoke jigs and fixtures, but also includes the manufacture of items for film sets, such as aluminium-bladed swords, daggers, shield parts and catapults used by actors in the television series, Game of Thrones.


The reduction in the number of set-ups also means that tight tolerances can be held more easily. On some aerospace parts, and even those for the pharmaceutical industry, such
as blister pack tooling, tolerances specified on the drawings are as tight as ± 20 µm.
Boyce says: "Hermle machines are inherently very accurate and able to hold this tolerance easily. The spindle in particular has no discernible run-out. Machine construction is very rigid, which not only ensures accuracy, but leads to longer tool life. The cachet of having Hermle equipment on your capacity list is not to be underestimated."
He recounts an incident in January 2018 when the 18,000 rpm, HSK 63 spindle of the second Hermle C 250 was accidentally knocked out of alignment by an operator. Luckily, the machine has a patented safety feature in the spindle whereby six mounting bolts with collapsible sleeves crumple and absorb the energy just long enough for the shock to be detected, triggering automatic machine stoppage.
The spindle itself was undamaged and needed only to be remounted with six new bolts, which was done by one of Kingsbury's local service engineers within a few hours the next working day. This process saved the expense of buying a new spindle cartridge and perhaps also the motor, as well as the costs of more major maintenance and extended machine downtime.
To ensure that there was no underlying spindle damage, vibration analysis files captured at different rotational speeds were sent by Kingsbury engineers to the Hermle factory for evaluation, where it was confirmed that the accident had not caused a spindle fault.
For further information www.kingsburyuk.com