Mills CNC has recently supplied three Doosan machines to Mellish Engineering Services, a private, family-owned manufacturer of performance-critical, high-integrity and fully-traceable fasteners and hot-forged bolts used extensively, but not exclusively, in the oil and gas sector. The machines, a Mynx 6500/50 large-capacity vertical machining centre, a Puma 2600SY Mk II multi-tasking lathe and a DNM 4000 vertical machining centre were installed at the company's 26,000 square foot facility in Aldridge towards the end of 2018.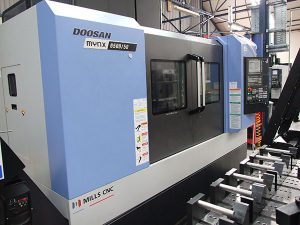 Both standard and non-standard fastener components are being produced by the machines, including bolts, pins, clamps, studs, nuts and washers. These parts are all made from hard and difficult-to-machine materials, such as Duplex and Super Duplex stainless steels, carbon steel, titanium, Inconel and Monel, and are machined to tight dimensional tolerances and high-quality surface finishes. They are machined in small batches right through to larger volumes to suit individual customer requirements.
Mellish-manufactured fastener systems and solutions are in high demand. This demand has been fuelled, in no small part, by the company achieving API (American Petroleum Institute) certification back in 2017.
Explains Mark Rattenberry, Mellish's managing director: "The global oil and gas industry has always been volatile, and oil price fluctuations are nothing new. However, the spectacular and rapid fall in oil prices, from a peak of $115 per barrel in June 2014 to under $35 at the end of February 2016, had a serious knock-on effect on our business, resulting in reduced sales revenues and an unwelcome squeeze on company profitability."
As it would later transpire, 2014 proved to be a 'watershed' year for Mellish because, instead of battening down the hatches, cutting overheads and riding out the downturn, the company made the strategic decision to plan ahead and invest in its future.
"We took a long-term view and looked at ways to increase our share in a relatively flat, and sometimes declining market," says Rattenberry. "A key decision we made was to gain API certification which, we believed, would not only differentiate us from our competitors but also, in the highly-regulated oil and gas sector where environmental and health and safety (EHS) concerns are paramount, position us as an approved quality supplier."
In 2017 Mellish achieved its ambitions, gaining API Q1, API 20E and API 20F certification. Mellish is one of only a handful of companies across Europe to have achieved these standards and, as a consequence, is able to use the official API monogram on its machined products.
"API accreditation is the gold standard," says Rattenberry. "It is an internationally recognised and accepted kite mark that has had a positive impact on sales"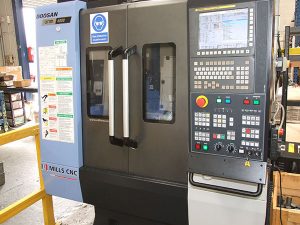 Since 2017, Mellish has experienced a marked increase in the number of companies making contact, enquiring about the company's solutions and, ultimately, placing orders. To meet the growing demand for its fastener systems and solutions, Mellish, as part of its company-wide continuous improvement programme, makes regular investment in its people, plant, equipment, processes and systems.
"We are always looking at ways to increase productivity and improve performance, and regularly audit and review our manufacturing processes to see how and where they can be improved," explains Rattenberry. "Our future depends on us maintaining quality standards, meeting customer lead times and controlling costs. To help, we invest in the latest machine tool technologies."
The recent acquisition of the three Doosan machines is a case in point and is evidence of Mellish's continuous improvement programme in action.
The Mynx 6500/50 is a rigid, large-capacity, box guideway vertical machining centre with a large working envelope (1270 x 670 x 625 mm), a large work table (1400 x 670 mm) and a high torque BT50 spindle (15 kW/6000 rpm).
Doosan's Mynx 6500/50 was purchased following the completion of a successful cutting trial undertaken at Mills CNC's Technology Campus facility. The trial was intended to demonstrate the Mynx 6500/50's cutting capabilities and its ability to reduce part cycle times when machining titanium tie-rod components.
"Our Mynx 6500/50 is a rigidly-built and constructed machine that is ideal for heavy-duty machining operations, and for machining the hard materials we use to manufacture our fasteners," says Rattenberry. "In the machining trial and the subsequent machining process developed by Mills, the part cycle times for machining each titanium component was reduced by 15 minutes. This improvement in productivity, combined with the machine's large working envelope, which we knew we could exploit to machine multiple parts in a single set-up, were the principal reasons why we purchased the machine."
Since being installed, Mellish has its focused efforts on refining and optimising the machining process, and has invested in a state-of-the-art manual twin-pallet change system that is positioned in front of the machine, enabling virtually continuous production with minimal operator intervention.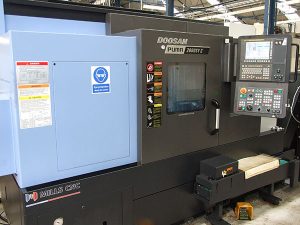 The 10" chuck/76 mm bar diameter Puma 2600SY Mk II is a multi-tasking lathe with a Y axis, sub-spindle and driven tools. Doosan's Puma 2600SY MK II, with its integrated mill-drill capabilities, enables Mellish to machine small turned parts, like studs and nuts, to completion, in a single set-up. The machine was supplied with a bar feeder to ensure continuous production.
Says Rattenberry: "The Puma 2600SY Mk II is a high-productivity lathe that has helped us reduce part cycle times, improve part accuracies (as components no longer need to be transferred between machines), and help avoid production bottlenecks."
The DNM 4000 is a fast (48 m/min rapids) vertical machining centre equipped with a direct-drive spindle (18.5 kW/12,000 rpm) and a 20-position ATC. This machine was supplied with a fourth-axis unit to increase its flexibility and productivity potential. The DNM 4000 is being used to machine a family of small fastener parts.
"Despite its compact footprint, the DNM 4000 certainly packs a punch and we have been impressed with its cutting capabilities and performance," states Rattenberry. "To improve the productivity of the machine we have designed special purpose fixturing that enables multiple parts to be machined in a single set-up."
Productivity and operational efficiency are critical to Mellish's future growth and prosperity.
The investment in Doosan machine tools from Mills CNC, combined with the company's determination to "sweat its assets" and continuously look at ways to optimise its machining processes, means that Mellish is able to meet the surge in demand for its fastener products and solutions.
Concludes Rattenberry: "Our decision to go for API accreditation has been vindicated and business is booming. We are focused on maintaining our market-leader status in the oil and gas industry, and investments such as those made in Doosan machine tools from Mills CNC will enable us to do this."
For further information www.millscnc.co.uk